Technical Specifications
Fastest Auto Return Tensioner on the Market
The all new TSR+ auto return tensioner range has been designed to ensure fast, simple, safe and reliable operation. With a focus on productivity and a reduction in downtime we have implemented state of the art materials and technology resulting in significant time saving during operation.
Increased Safety
TSR+ Load cells have a relief valve to prevent accidental overstroke of the tool. This safety mechanism preventsseal blow outs and the users exposure to ejected oil.
Improved Seal Technology
Latest design eases seal changeouts and enhances general performance throughout high cycle usage.
Model
Capacity
Outside Dia.
Bolt Size
Hydraulic Area
Stroke
Bolt
Thread Pitch
A
H1
H2
H3
E
Weight
No
Ton
k.N
mm (D1)
metrik (D2)
inch
cm²
mm
mm
Thread Pitch
mm
mm
mm
mm
mm
kg
TSR+4
100
1000
141
M39
1-1/2''
66.7
10
60
4.0
132
39
212
39
25.4
141
M42
1-5/8''
66.7
10
65
4.5
135
42
218
42
25.4
141
M45
1-3/4''
66.7
10
70
4.5
139
45
225
45
25.4
141
M48
1-7/8''
66.7
10
75
5.0
142
48
231
48
25.4
141
-
2"
66.7
10
80
5.0
145
50.8
231
50.8
25.4
How Bolt Tensioner Works: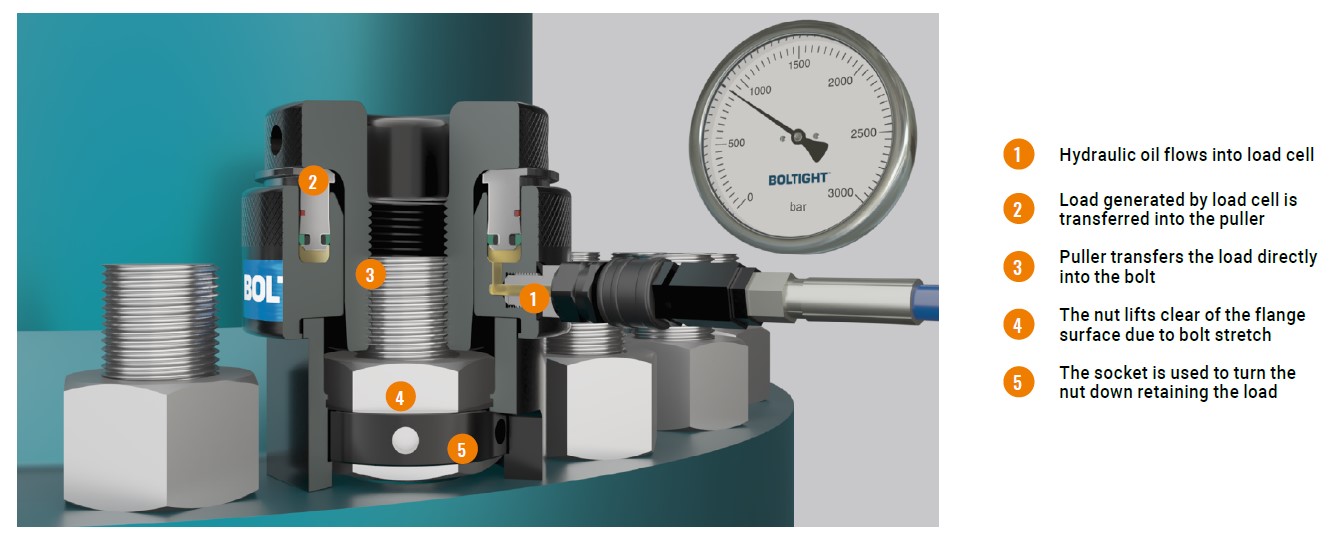 Applications including:
All Oil & Gas Flanges
Heat Exchangers
Pressure vessels
Exchange covers & nozzles
Boiler feed pump
Manufacturing machinery
Cranes

Clamps