Technical Specifications
Equalizer SWi20/25TE Hydraulic Flange Spreader with External Pump 25 Ton
The Equalizer™ SWi Innovative Range of Flange Spreading Wedges have been developed to assist in the spreading of all flange joint types with a minimum access gap of 6.0mm (0.25"). The tools can be used during pipework construction, commissioning or during routine maintenance.
The SWi Innovative Range of Flange Spreaders have less moving parts and no finger pinch points. The tools have been developed to increase the spreading distance on each step while gaining easier access between any remaining stud-bolts within the flange joint. The tools provide a much higher spreading force to the existing SW flange spreading tools. The SWi tools are supplied with a swivel handle, safety lanyard and stepped block attachment as standard.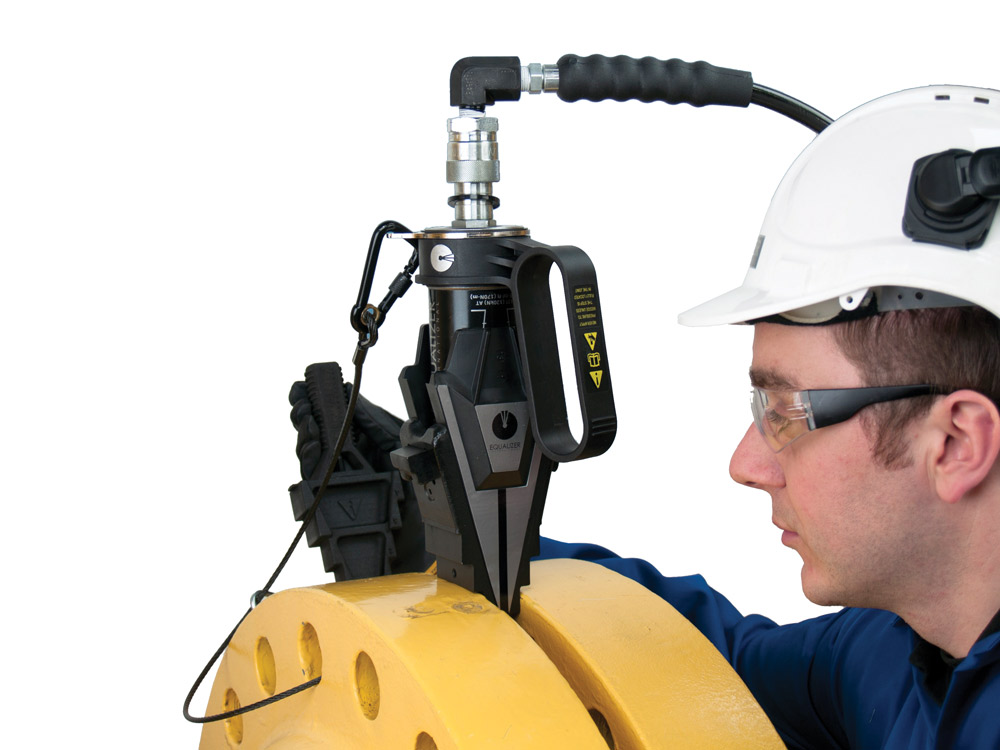 6 mm Flange Space is Enough for SWi20/25TE
6 mm gap is enough to start processing. Flange connections can be opened with the use of both stepped blocks up to 103,5 mm. This distance is good for the necessary repair and maintenance process. Equalizer SWi20/25TE external pump hydraulic flange spreader can be used in natural gas plants, oil refineries, water and chemical production lines. Allows the assembly process to be completed quickly and safely. Saves labor time. Reduces costs. Flange connection is indispensable for mounting and dismounting equipment.
---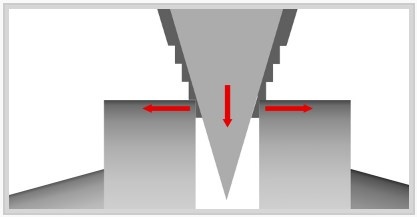 Equalizer Flange Spreader Technology
Flange equipment has been developed as a result of intensive research and development.Flange spreader has been developed in cooperation with the oil companies. (BP, Total, Shell, Esso and many more.) Flange spreading process is starting with 90° angle.Spreading-pushing force is applied directly to the flange surface and allows the opening of the flange without contraction. Sealing is never damaged. This specific feature is only provided by Equalizer Flange Spreading Technology.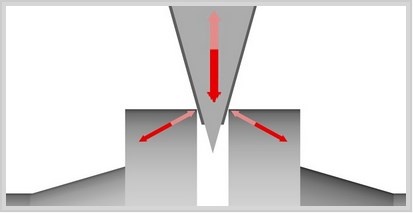 Standard Flange Spreading Method
Standard flange spreading technology systems is in the system is slightly different. In this system, the separation force can't be applied at right angles. Spreading force will damage the flange surface thus sealing deteriorates. Deformed flanges become unusable after a while. This is why 90 degree working angle is very important for flanges.

SWi2025TEMINSPB

Mini Kit

SWi2025TESTDSPB

Standard Kit

SWi2025TEMAXSPB

Maxi Kit

1 x SWi20/25TE
Flange Spreader Wedgehead
1 x (700bar) Hydraulic Cylinder
1 x Set of Safety Blocks
1 x Pairs of Stepped Blocks
1 x Hex Key
1 x Lanyard
1 x Instruction Manual
1 x Plastic Carry Case
Gross Kit Weight 11.6kg (25.6lb)

1 x SWi20/25TE
Flange Spreader Wedgehead
1 x (700bar) Hydraulic Cylinder
1 x (700bar) Hydraulic Hose,
2m with 90 degree elbow
1 x 10,000psi (700bar) HP350S
Sealed Hand Pump with Gauge
1 x Set of Safety Blocks
1 x Pair of Stepped Blocks
1 x Hex Key
1 x Lanyard
1 x Instruction Manual
1 x Plastic Carry Case
Gross Kit Weight 20.7kg

2 x SWi20/25TE
Flange Spreader Wedgeheads
2 x (700bar) Hydraulic Cylinders
2 x (700bar) Hydraulic Hoses,
2m with 90 degree elbow
1 x (700bar) HP550D
Sealed Hand Pump with Gauge
2 x Sets of Safety Blocks
2 x Pairs of Stepped Blocks
2 x Hex Keys
2 x Lanyards
1 x Instruction Manual
1 x Plastic Carry Case
Gross Kit Weight 33kg (72.8lb)
Equalizer SWi20/25TE Hydraulic Flange Spreader PDF
Equalizer SWi20/25TE Hydraulic Flange Spreader Users Manual PDF